Meet Cliff Davidson, PhD candidate
Meet Cliff Davidson, PhD candidate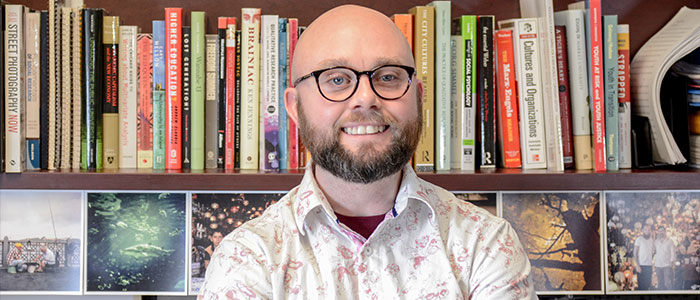 Cliff is the recipient of a three year SSHRC CGS-D (Social Sciences and Humanities Research Council, Canada Graduate Scholarship-Doctoral).
Supervisor: Dr. Wolfgang Lehmann
Area of research and working title of thesis: My area of focus is student success at university, with the working title: Towards a New Definition of Student Success: Integrating students' voices and backgrounds into university student success. I work under the supervision of Dr. Wolfgang Lehmann who focuses on first generation students and educational inequality.
What influenced your research path?
I was influenced by studying at a variety of post-secondary institutions that had myriad different structures and educational differences, both in teaching and approaches to teaching. I also took an educational policy course that really got me to thinking about the lack of a student's voice in their own educational undertakings, even at higher levels.
Why did you choose Western for your studies?
Because I could work with Wolfgang Lehmann with educational sociology.
Where's your favourite place on campus to work/study/research? Why?
My office, because I make it very, very homey with photos and books and decorations, and it just feels comfortable.
What is it about your grad program that enables you to thrive and be successful?
Great advisor, excellent faculty, and super staff.
What is your "dream" career?
My dream career is to become a tenured professor and, additionally, contribute to educational policy.
Have you worked as a TA or RA? If so, how did this benefit your academic career?
I have worked as a TA with a few different profs, so I got to see a variety of teaching techniques. Additionally, I've been able to help build a course syllabus over 3 years TAing the same course with my advisor. This has given the opportunity to help plan to eventually teach my own course.
Do you engage in volunteer activities? If yes, what activities?
I am engaged with a variety of activities on campus. I help with the Society of Graduate Students, the PSAC Teaching Assistant Union as head of the mobilization committee, and I participate in the Publishing Parish and Public Sociology groups in the department. I have also been part of the Sociology Graduate Student Association as deputy chair and head of the ad hoc graduate concerns committee.
What are you most passionate about?
I'm passionate about educational inequality, student's voices being heard, and photography.
Hobbies, special talent(s), interests outside academia
I'm a photographer who likes to shoot with analogue cameras and develop my own film. I am also the founder and executive director of the Toronto Urban Photography Festival.