Lifetime Achievement Award for Allahar
Lifetime Achievement Award for Allahar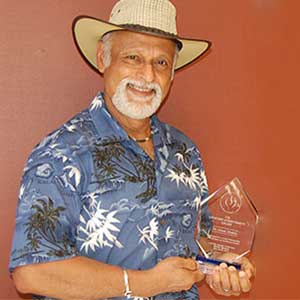 At their annual conference May 30, the Caribbean Studies Association awarded the CSA Lifetime Achievement Award to Dr. Anton Allahar, Professor of Sociology at Western. In the 39 year history of the Association, this is the first time this award has been presented. The award recognizes his academic leadership in the field of Caribbean Studies, including research, scholarship, teaching and mentoring, as well as his organizational contributions.
During his long academic career, Dr. Allahar has pursued his interests in economic development, the politics of globalization and democracy, and ethnic and racial relations, as these apply to the Caribbean and Latin America. His scholarship in these areas led to books such as Caribbean Charisma (2002), Ethnicity, Class, and Nationalism in the Caribbean (2005), Sociology and the Periphery (1995), Class, Politics, and Sugar in Colonial Cuba (1990), and The Sugar Planters of Colonial Cuba (1982). These stand with many articles, chapters, lectures and conference presentations over his career that have created a lasting impact on this field.
Dr. Allahar has worked tirelessly to promote intellectual engagement with the tangled issues of race, class, nationalisms, and identities. He has organized conferences, seminars and workshops internationally, and even served a term as the President of the Caribbean Studies Association. Among other appointments, Professor Allahar has been visiting professor at the University of Leningrad, the University of the South Pacific and The University of the West Indies. He is also an active member of many other professional associations, such as the Centre or Research on Latin America and the Caribbean, and Cuba Research and Analysis Group. In this context, it is worth noting that Dr. Allahar also holds two honorary Professorships from the University of Havana and the University of Oriente, both in Cuba.
Closer to home, Dr. Allahar is an award-winning teacher. In his teaching philosophy he writes, "what I advocate is not a blind endorsement of what might well be an unjust social order, but rather a social order consisting of, and fashioned by, an informed (educated) citizenry, that is able to challenge injustice in any form. In this context every individual has a social responsibility to the wider social whole of which he or she is a part." Dr. Allahar has been teaching since 1976, and at The University of Western Ontario since 1984, and has taught over 15 courses at both the undergraduate and graduate levels. He has also supervised over twenty graduate students. Not only has Allahar been given six awards for excellence in teaching (including the national 3M, the provincial OCUFA, and Western's Pleva award), his passion for developing critical thinking skills in his students and for preserving high standards of intellectual pursuit in universities have also led him to research and study the field of education. With his colleague, James Côté, he has written 5 books that include Ivory Tower Blues: A University System in Crisis (2007), La Tour de Papier: L'université mais à quel prix? (2010), and Lowering Higher Education: the rise of corporate universities and the fall of liberal education (2011).
The Caribbean Studies Association searched for an individual who "by virtue of their professional persona and intellect helped to expand not only the field's boundaries, but also achieved greater public acknowledgment of and understanding for Caribbean Studies as a field of intellectual engagement and for the Caribbean region as a space of valuable and significant contributions to humanity" and Dr. Allahar fits the bill. On receiving the CSA Lifetime Achievement Award, Dr. Allahar says, "I am thrilled, delighted and honoured to receive the CSA Lifetime Achievement Award. It is such a special gesture and a perfect way to crown an academic career. I wish to thank all who participated in making this difficult decision and at the same time I would like to acknowledge the four other equally deserving nominees. I would especially like to thank my students over the years who have made me the professor I am."