Connidis awarded Wiley's Inaugural Alexis Walker Award
Connidis awarded Wiley's Inaugural Alexis Walker Award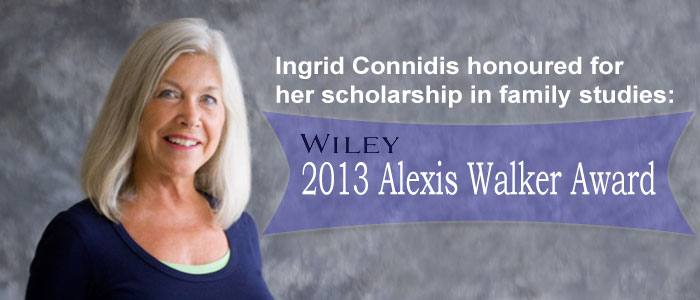 Congratulations Ingrid Connidis!
Professor Ingrid Connidis is a recipient of Wiley's Inaugural Alexis Walker Award for Family Studies Research. The award was established in the memory of Professor Alexis Walker, a leader in Family Studies and an editor of the Journal of Marriage and Family. Ingrid received the award in recognition of her research published in the Journal of Family Theory and Review which used interviews and memoirs to explore gay men's ties with parents and siblings, in order to reveal a clearer and more inclusive picture of gay men in families.
Read more about Dr. Connidis and her research.