Sociology Alumni
AGENT OF CHANGE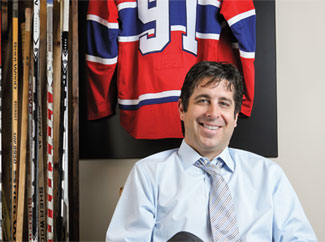 Ian Pulver, BA'87 (Sociology), has helped put millions of dollars into the pockets of NHL players.
And the former labour lawyer with the National Hockey League Players Association (NHLPA), who's now a player agent, credits his education at Western for some of his success.
"Sociology helped prepare me for dealing with people and society, and for dealing with people from all over the world," says Pulver, who represents players from several countries.
The former Pi Lambda Phi fraternity member also met his wife, Corinne (BA'87), at Western and worked on sports broadcasts on CHRW. After three years at Western, the Toronto native attended law school at the University of British Columbia (UBC).
"I took sports law at UBC in my second year," he explains, "and in my third year I wrote a paper on the collective bargaining dynamic between the NHL and the NHLPA." 
He mailed that paper to every NHL team and to Bob Goodenow, the soon-to-be executive director of the NHLPA. He would later meet Goodenow at the 1990 NHL Entry Draft in Vancouver.
"One thing led to another and I found my way back to Toronto and started working for the NHLPA on nights and weekends," Pulver recounts.
The ambitious Western grad quickly evolved into one of the NHLPA's most respected and influential voices. During his tenure with the NHLPA from 1990 to 2006, Pulver helped "professionalize" the arbitration process and ensure that players had proper representation at disciplinary hearings. He was also one of the authors of the current Collective Bargaining Agreement, a document forged at the expense of the 2004-05 NHL season.
In 2006, Pulver left the NHLPA to become a player agent. Now considered one of the best in his field, he negotiated centre Scott Gomez's lucrative seven-year, $51.5-million contract with the New York Rangers in 2007. He also represents Mike Cammalleri, Sam Gagner and Tyler Seguin.
Over the years, Pulver has appeared on Hockey Night in Canada and Rogers Sportsnet. He also blogs on his website (pulversports.com), is active on Twitter (@pulversports) and has returned to speak at Western's law school on multiple occasions.
"I've gotten to know professor (Richard) McLaren at the law school quite well because he's an arbitrator," Pulver says. "When I worked at the NHLPA, I appeared before him several times as an advocate and he was the arbitrator. I have a lot of fond memories of Western. I love going back there."
***
Click here to read about Pulver's thoughts on some of the NHL's hot button issues.