Graduate News
News and Announcements
A shout out to Stacey Hallman (PhD 2015), now an Analyst in the Demography Division at Statistics Canada, who was quoted widely in media outlets across Canada from the Chronical Herald in Halifax to the Vancouver Sun regarding the 2016 census findings released in February 2017.
Loanna Heidinger has received the Aileen D. Ross Fellowship, awarded annually to a SSHRC doctoral award recipient conducting poverty-related research in Sociology. Congratulations Loanna!
"Skip carding, try walking beat, academic says" London Free Press article features comments by Lesley Bikos, former police officer and current PhD student.
Lesley Bikos' doctoral research on women and policing was featured in London Free Press article Growing number of women police hasn't yet dismantled 'old boys' club' of officers on August 29, 2016, in National Post article Growing number of women on Canadian police forces no match for 'old boys' club' on August 30, 2016, and in Toronto Star article Female cops tell researcher that boys' club still persists on September 1, 2016. Click here for links to more media coverage of Lesley's research.
Nicole Etherington (PhD 2016) has accepted a position as a Clinical Research Associate in Clinical Epidemiology and Knowledge Translation at the Ottawa Hospital Research Institute.
Jennifer Silcox (PhD 2016) has recently accepted an assistant professor position in the Department of Sociology and Social Anthropology at Dalhousie University starting in August.
Recent Publications
Tracey L. Adams & Michael Rooyakkers. 2016. "Theorizing Gender Inequality." Chapter 14 in Social Inequality in Canada: Dimensions of Disadvantage, Sixth Edition, edited by E. Grabb, J.G. Ritz, and M. Hwang. Toronto: Oxford University Press.
Davidson, Cliff. 2016. "Re-Imagining the Anonymous City: Defatalizing the Digital Present through Analog Photography." Pp. 260–74 in Time, Temporality and Violence in International Relations: (De)fatalizing the Present, Forging Radical Alternatives, edited by Anna M. Agathangelou and Kyle D. Killian. New York: Routledge.
Etherington, N. & Baker, L. 2016. From "Buzzword" to Best Practice: Applying Intersectionality to Children Exposed to Intimate Partner Violence. Trauma, Violence, & Abuse. Click here to see the full list of publications by Nicole Etherington
Akkaymak, Guliz. 2015. "Neoliberal Ideology in the Primary School Social Studies Textbooks in Turkey." Journal for Critical Education Policy Studies 12(3): 282-308.
Stoliker, B. E., & Lafreniere, K. D. 2015. The Influence of Perceived Stress, Loneliness, and Learning Burnout on University Students' Educational Experience. College Student Journal 49(1): 146-160.
Huey, Laura, Joseph Varanese and Ryan Broll. 2015. "The Gray Cygnet Problem in Terrorism Research," in Martin Bouchard (ed.) Radical and Connected: Social Networks, Terrorism, and Counter-Terrorism. London: Routledge. Pp. 34-47.
Resources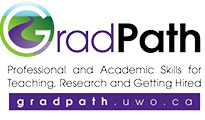 GradPath is your portal to graduate student professional development programs at Western.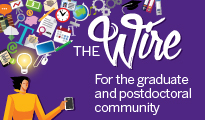 To subscribe, click on
RSS feed
or
smart phone and tablet
for setup details.
Highly recommended!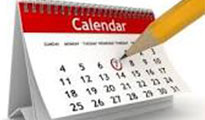 An overview of important dates and deadlines for graduate students.