Anna Zajacova joins Department of Sociology
Anna Zajacova joins Department of Sociology
January 1, 2017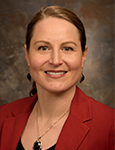 The Department of Sociology is delighted to welcome Dr. Anna Zajacova to our faculty. Dr. Zajacova has joined us from the University of Wyoming.
Professor Zajacova's areas of research specialty include population health, lifecourse and aging, health inequalities, demography, applied statistics and social epidemiology.
Dr. Zajacova is a leading authority on the socioeconomic gradient in health and mortality. Among her many other research endeavors, Dr. Zajacova has explored the health implications of educational attainment. She has also researched body composition, health and mortality.
Her research has been published in leading journals including the Journal of Health and Social Behavior, Social Science and Medicine, the American Journal of Epidemiology, and Journal of Gerontology.
Professor Zajacova completed her PhD in Sociology and Demography at Princeton in 2006, and served as a faculty member at the University of Wyoming from 2009 to 2016.
Dr. Zajacova will not be teaching in the winter of 2017, but will be teaching courses in statistics and health in the fall of 2017.
Welcome Anna!